I launched the Unraveling Collection ($UNRAVEL) on Foundation in early July of 2022 as a means to fund-raise so I could cover traveling to DC to document the Women's March event on July 9th. While no NFTs sold before the event, I'd created a collection that I could leverage to actively use my skills to fight for my own rights and those of the collective. I began exploring this concept of deploying my NFTs as tools to raise funds for DAOs in late 2021 and now the framework was finally in place.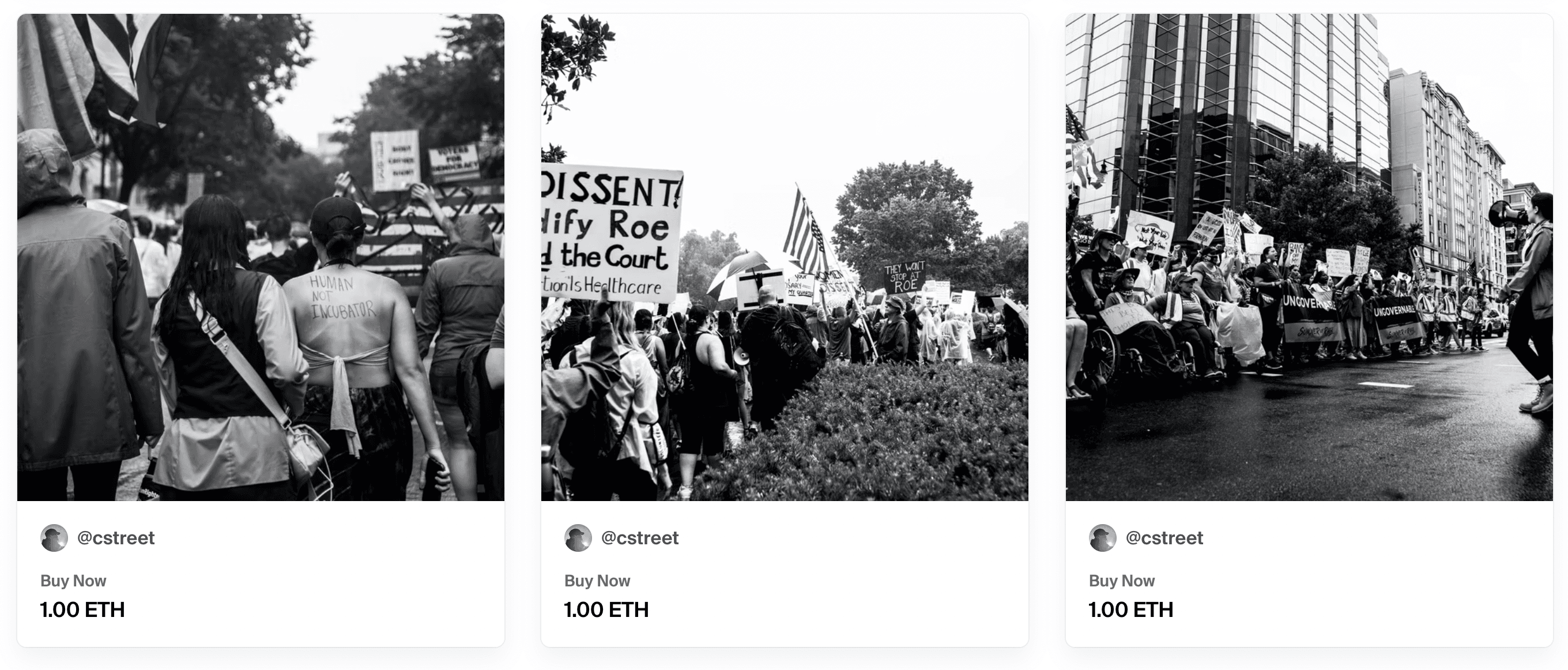 Unraveling is a collection that will grow over time as I continue to document the various elements of my country's spiral into authoritarian rule and the collapse of our social systems in the wake of late-stage capitalism.
I will mint many of the Unraveling NFTs with splits that will distribute funds automatically using the smart contracts built into the $UNRAVEL artist's contract on Foundation. Funds will be directed towards chosen DAOs that are supporting issues represented in the images or DAOs. I chose not to mint any images of individual protestors, only images of signs, symbols, iconography and group images.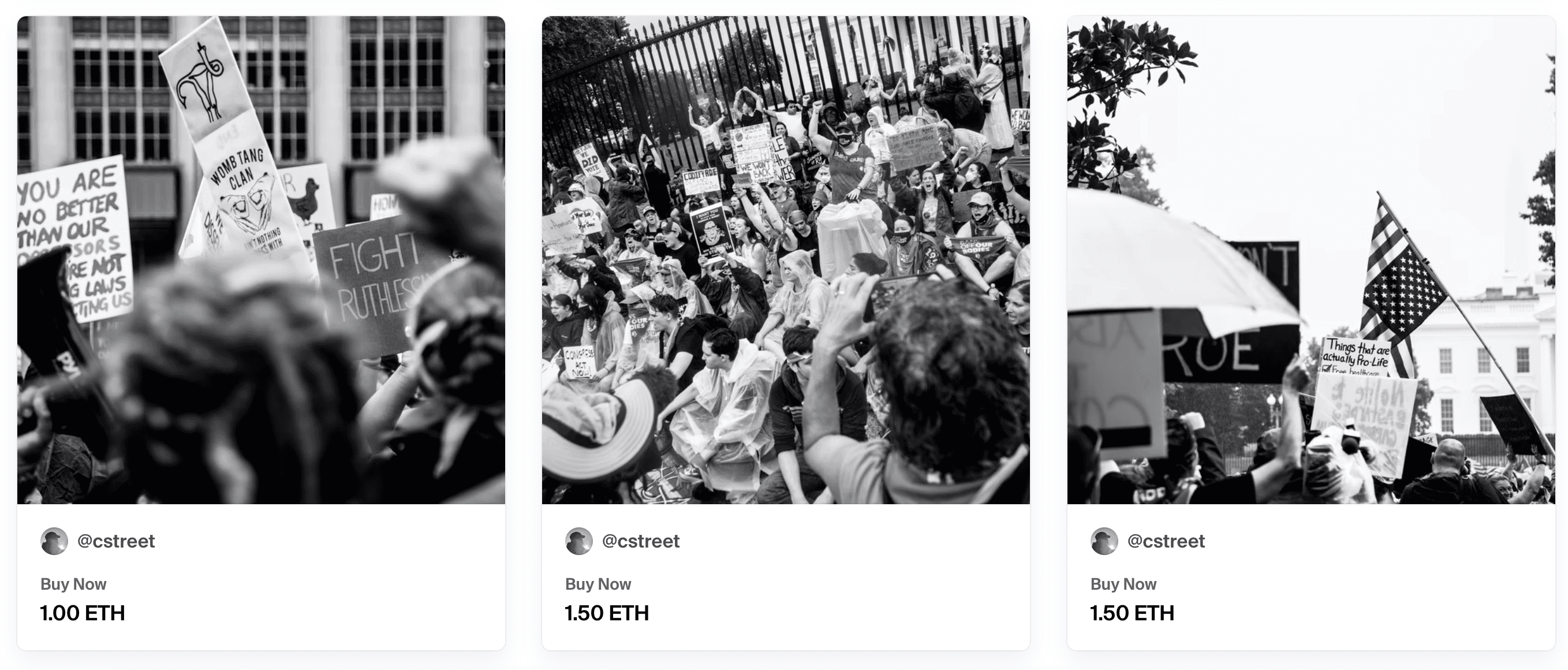 The first fundraising round contains six NFTs minted from the Women's March on July 9th, 2020 and 75% of the proceeds will automatically go to the ChoiceDAO, an organization that is fundraising and fighting to support reproductive rights. The split will also cover future royalties which will be divided using the same percentage allocations. (Please note, I was watching the final Jan 6th hearings while minting and seething with a little rage, so I accidentally used the wrong percentage split in several NFT descriptions, you can confirm the splits on the etherscan for the collection).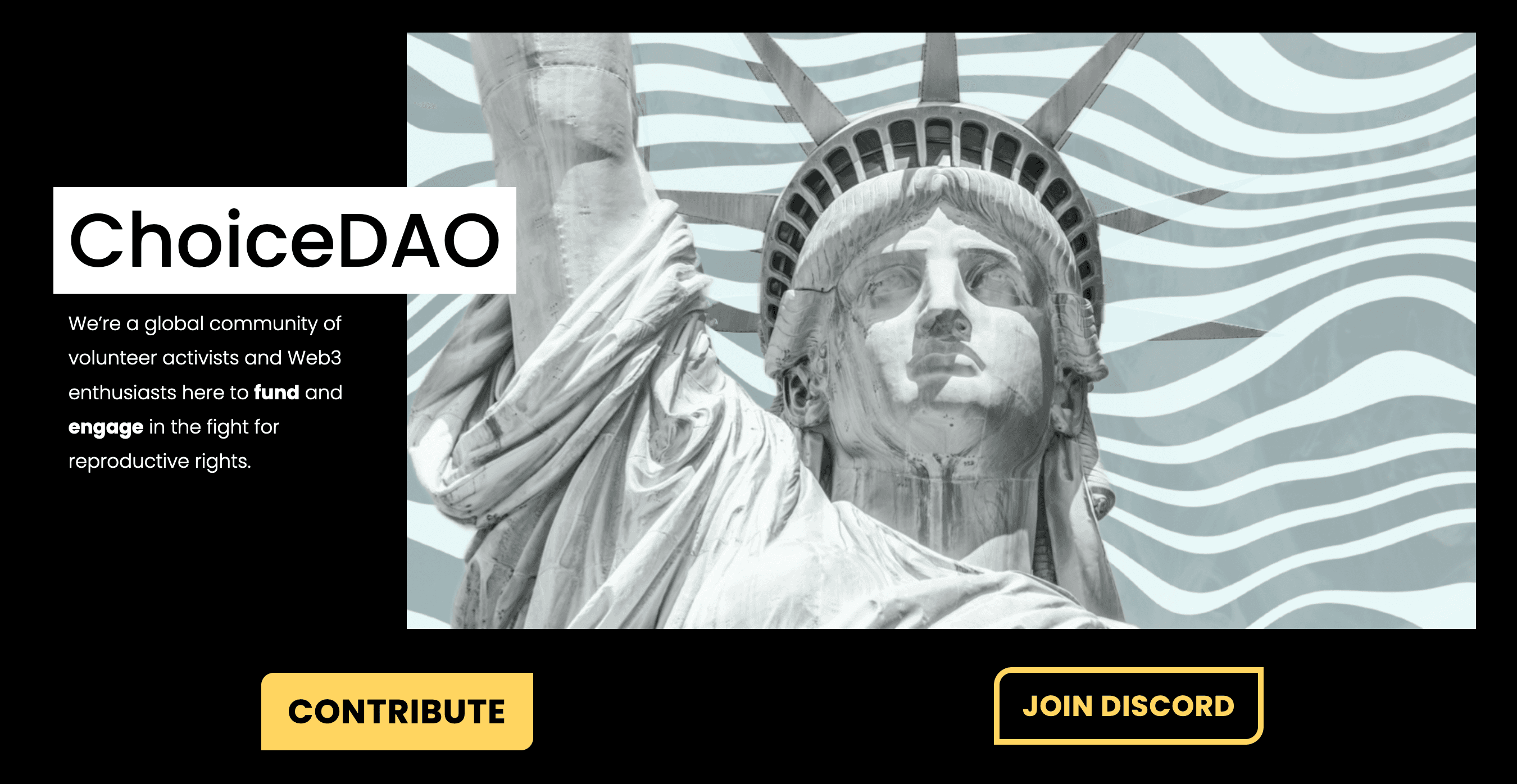 Remaining funds, 25% of each NFT sale, will go towards gas (ETH and actual petroleum ;) so I can continue documenting protests and events seeking to raise awareness about the unraveling of our social fabrics and the destruction of our human rights.
If you'd like to support this project, yet do not wish to collect any NFTs, please use this referral link to share the collection and you'll receive 1% of sales that occur using your link.
To see the photo full essay of the day's images and my observations of the event, visit these links:
---
For those new to my art, here's my artist's CV. In addition to my traditional art career as a photojournalist and documentarian of over 25 years, I began minting my artwork to the blockchain in early 2021 and have been featured in multiple IRL NFT galleries in Chicago and LA in curated women-only photographer's exhibits. I have a handful of repeat collectors who are amazing humans that I'm so incredibly grateful to have connected on this wild journey into emerging technology!
Awards, Grants & Fellowships
First in the nation at the College Photographers of the Year competition for still/audio production
First in the North Carolina Press Photographers Assoc. professional category for still/audio production
Honorable mention as assistant editor on group multimedia project for CPOY
Best of Photography Honorable Mention for Best Multimedia package, as assistant editor
Hearst Competition, 9th in the nation for photo essay on crime and poverty
Class of 1938 Fellow for Tibetan Exile Documentary Project
SURF Fellow for Tibetan Exile Documentary Project
Multiple journalism grants for international projects
Nieman Scholar at Naropa University 2022-23
Exhibits & Collections
2001 Dare County Arts Council Solo Exhibit
2002 Commission for Private Collector in Corolla, N.C.
2007 Curator & Exhibitor in Photojournalism Collection at UNC
2008 Fine Art Commission for UNC Summer School
2021 Balance NFT Exhibit at ImNotArt Gallery in Chicago, IL, NFT sold for 1 ETH at auction.
2022 A Perfect Day NFT Exhibit at Super Chief Gallery, Los Angeles, CA
Partial Client List 2003-2017
Whole Foods Market
Nissan North America
Oregon Public Broadcasting
University of North Carolina at Chapel Hill
News & Observer
Outer Banks Press
Special Olympics
Junior Achievement/World Bank
Pizza Hut/ Martin Agency
And many more…
Please visit my Linktree to see my various collections, portfolios and work on the interwebs.